Installation and Commisioning
Stratos technicians are qualified professionals with proven experience that are certified and properly equipped to install and commission all the top carriers equipment, but not limited to; A/LU (Alcatel Lucent), Ericsson, NSN (Nokia Siemens Network), Nortel, and Samsung.  Whether it is a customer deliverable or not, we test all of the installation equipment and components and record the results.  These are stored on our secure server for our customer's viewing and downloading at any time.  The most common types of testing are fiber, line sweep, PIM, and DC power.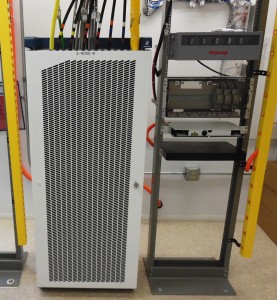 Base Transceiver Station (BTS)
CDMA, UMTS, PCS, LTE, 3G, 4G, or AWS all use a form of the BTS.  It can be an indoor or outdoor cabinet, or it can be a Remote Radio Unit (RRU/RRH) that is ground-mounted or tower-mounted.  At Stratos, we have successfully installed and commissioned thousands of BTS units over the years.  Our technicians are OEM (Original Equipment Manufacturer) trained and certified.  Quality and timely delivery have kept us at the forefront of our competition.
Cell Site Router / Switch
All facets of the macro side are inherently important but cannot operate without the transport piece of the network which is the life line from the cell site to the switch/MTSO.  Proper installation techniques and configuration of the CSR to the fiber provider's demarc, along with the experience and knowledge of the customers' requirements, will facilitate a seamless integration.  At Stratos, having experience in the switch/MTSO helps in the understanding of the completion of a wireless network.  From Toll, A/LU 1A, Ericsson AKE, and Nortel SP1 to NSN's EWSD, Nortel DMS100, A/LU 5ESS, and Ericsson's ever-changing AXE, we are in endless training to not only meet, but exceed our customers' expectations and keep abreast of the evolving switch technologies.
Optical Fiber
This is the most common media currently used in wireless infrastructure.  Depending on your application needs of multi-mode, 10 Gig, or single-mode, we use the latest testing equipment to ensure the fiber's utmost integrity and reliability.  Data post-processing and reporting tools gives consolidated data management that is key to our customers' requirements and standards.  We store the reports that include the results from OTDR, power meter, optical loss, fiber inspection, and attenuation.  We can also record the spectral testing, back reflection, polarization, and dispersion analysis at our customer's request.